CITAB Webinar "Gestão do Impacto das Alterações Climáticas na Vinha"
Free participation in this webinar, starting at 14h30 until 16h30. INFRAVINI is a co-promotion project, coordinated by the Geodouro - Consultoria e Topografia, Lda company, in which CITAB/UTAD is a partner.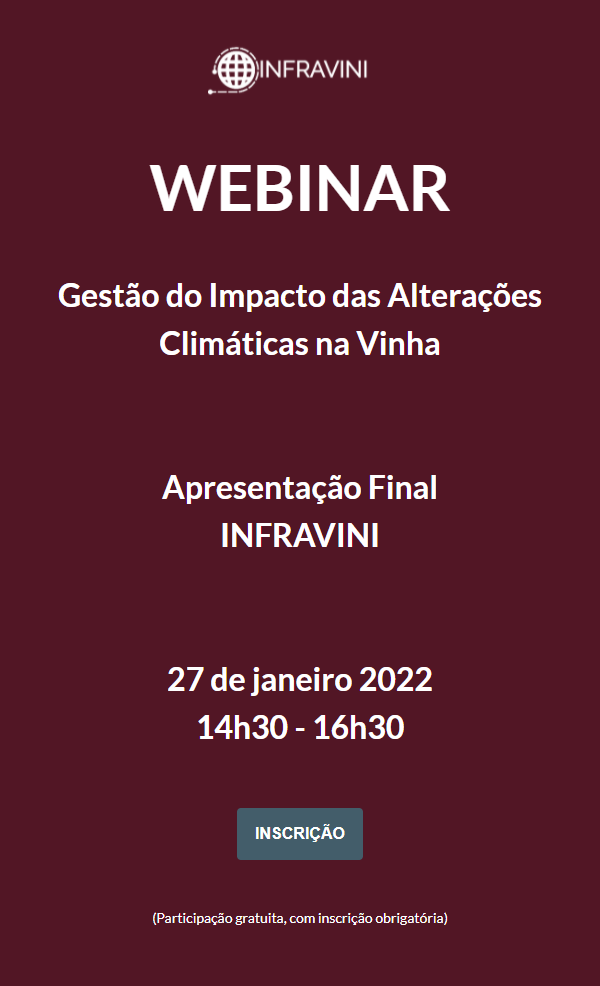 Adaptation to climate change is one of the biggest challenges for the wine sector. Each wine-growing region has unique characteristics (terroir), making it essential to know the different contexts and understand their interaction with the regional and local climate - essential information to identify and prioritize adaptation strategies at different temporal and spatial scales. Therefore, the quality and timeliness of the available information is a key factor in decision-making, as it enhances competitiveness and sustainability, based on solid scientific bases. In order to contribute to this process, will be presented a Spatial Data Infrastructure developed within the scope of the INFRAVINI project, an innovative decision support platform with wide applicability for the Douro wine sector. Participation is free, follow the link below.
Created at:
Thursday, 27th January 2022
Start date: Thursday, 27th January 2022